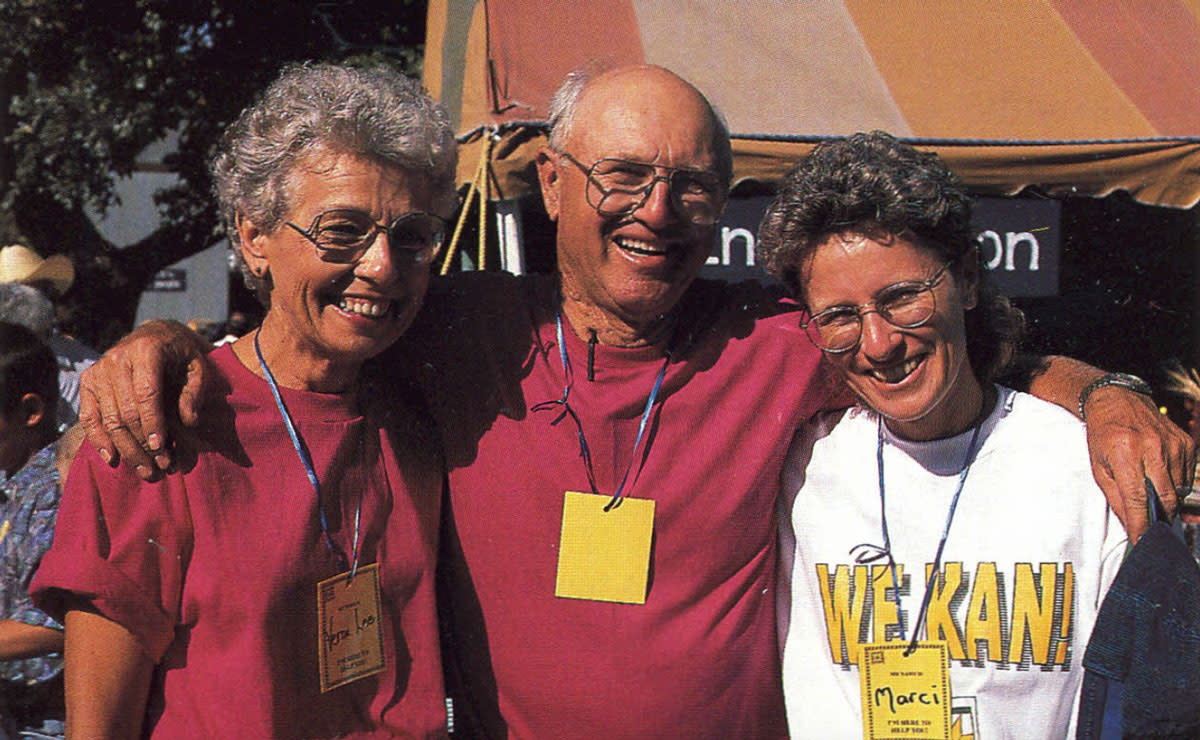 The Kansas Sampler Festival, the annual two-day gathering hosted by the Penner family on their farm near Inman, has grown beyond its founders' wildest dreams.
This article was originally featured in the fall issue of 1995, and has been lightly updated. In 2023, the Kansas Sampler Foundation celebrated its 30th anniversary. The Kansas Sampler Festival ended in 2017. Since then the Sampler Foundation has hosted the Big Kansas Road Trip.
Hundreds of cars will make their way down a country road near Inman the first full weekend in October, bound for a 160-acre farm that has become a hub for rural tourism promotion in Kansas. The site is home to the Kansas Sampler Festival, a two-day grass-roots gathering that enable communities, attractions and events to showcase themselves to the traveling public. 
"In many instances, we provide the only forum exhibitors from towns like Elk Falls, Morrill, Morland, Woodston, and others have, aside from word of  mouth, for getting their message out," says Marci Penner, who, with her father, Mil, founded the festival. "They just don't have the resources to advertise or to set up booths at expensive travel shows elsewhere."
Nearly 7,000 people attended last year's festival and more are expected this year. They will be greeted by representatives of some 100 communities whose hometown pride takes on a near evangelistic fervor.
"They can get you real excited about Kansas," Marci chuckles. "One couple who won a weekend vacation in Ellsworth County was so thrilled with their prize you'd have thought they were on their way to Hawaii!"
First-time festival goers are surprised when parking attendants direct them to an alfalfa field. It's a short walk from there to the ticket booth.
"Something that works for us is that people have low expectations," Marci continues. "Once they get inside, they can't believe how much there is going on and how much Kansas has to offer them. The festival opens many eyes to the uniqueness of rural tourism in the state."
Actually, the Kansas Sampler Festival has a number of metropolitan exhibitors, too. Lawrence, Olathe and Wichita are represented as are such attractions and events as Liberal's International Pancake Day Race and the Kansas Cosmosphere and Space Center in Hutchinson.
The only criteria those sponsoring a booth must have is the desire to attract visitors.
The festival evolved from a book opening party the Penners held one November day in 1990 to celebrate the publication of their first Kansas Weekend Guide. Thirty attractions they wrote about were invited to set up booths at the event and 15 accepted. More than 1,000 visitors came to the event.
"It was cold and a steady rain was falling," Mil recalls, "but that didn't dampen anyone's spirits. In fact, the opposite was the case. We figured if that many people would come out in such bad weather then we must be on to something."
While on a family vacation, the Penners discussed the event's success and decided to host a two-day festival dedicated to educating the public about Kansas and inspiring travel within our state. They also conceived the non-profit Kansas Sampler Foundation to serve as its umbrella organization.
"The goal of the foundation is to recognize rural culture and the contributions rural communities have made to the history of Kansas and the ongoing drama of Kansas life," Marci explains. "By rural culture we mean any or all of the many elements that shape each Kansas community such as history, architecture, geography, commerce, cuisine, customs, art and the people themselves. The ambition of the foundation is to encourage and help these communities define and preserve this rural culture and to motivate the public to take an interest in visiting and understanding rural Kansas.
"Further, the foundation has a goal to foster awareness and nourish pride in the innumerable rural cultures of Kansas so that the communities these cultures are in will live a long and fruitful life."
The foundation also sponsors year-round projects to help achieve these goals.
The site of the Kansas Sampler Festivalis the former working farm where Mil was born and reared and where he and his wife,Verna Lee, still live. More than 50 varieties of trees and shrubs grow on the farm and flower gardens, a pond and walking trails through a natural prairie have been added. A creek bisects the property and a footbridge connects the two sides on which exhibitors' tents are located.
lays, the Kansas Sampler Festival offers a host of activities. The show tent features a wide variety of music, dance, skits, melodrama, historical interpretations and more. Musical entertainment ranges from gospel singing to performances by the City of McPherson Pipe Band and a German Polka Band. Dancers include Lindsborg's Folkdanslag, The Ballet Folklorica of Topeka and the Plains Indian Ceremonial Dancers from Wichita.
The history of Nicodemus, an early all-African American settlement in Graham County, is related by Angela Bates, the town's resident historian. There are also Buffalo Soldier portrayals and inspiring renditions of songs associated with the "Exoduster" movement to the state.
"Kansas truly is a melting pot and that becomes readily evident when one attends the festival," Marci says. "What's fascinating is to watch the various ethnic groups join together to communicate the same message in different ways." Other Kansas Sampler Festival activities include skydiving exhibitions, blacksmithing and horseshoeing, surrey rides, antique tractor and implement displays, traditional crafts demonstrations and a pre-l 840 mountain man fur trader camp.
Food is prepared and sold on the grounds but only ethnic cuisine is featured.
''You won't find hot dogs and hamburgers here," Marci emphasizes. ''We don't want anything that gives the impression this is a carnival atmosphere.
Foods featured in the Kansas Department of Agriculture's "From The Land of Kansas" promotion also are sold on site. The Penners are quick to note that many of these unique products are manufactured by cottage industries who bring dollars, and tourists, into rural Kansas.
As the Kansas Sampler Festival grows so does the foundation. The Sharon Schmidt Kansas Sampler Center was recently built to serve as headquarters for foundation activities. The barnlike structure has a spacious auditorium and is available for banquets, retreats and seminars. Its lobby is stocked with Kansas products.