Lesser Prairie Chickens
Lesser prairie chickens, once one of America's hardest species to see, are now one of the easiest thanks to two legendary western Kansas ranches. Smoky Valley and Hoeme Ranch offered viewing for the first time last year and featured a combined 14 leks and an estimated 400 lesser prairie chickens. Birding guests were treated to close-viewing for at least two hours on leks that averaged 20 birds. Some leks also had greater prairie chickens and hybrids.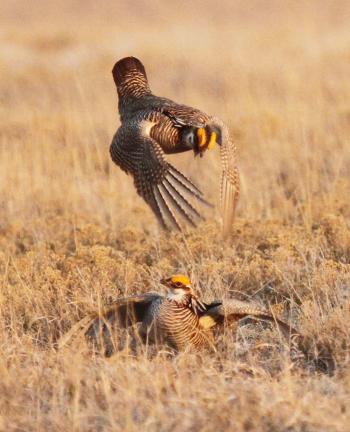 Here's what some super-serious birders thought of the ranches.
"It was the kind of experience we'd always wanted to see, but didn't think we ever would," said Andrea MacLeod, British Columbia birder/wildlife biologist, on a morning the birds were so close she could hear their feet stamping.
"I can already tell you we'll be back next year," said Stephen Lorenz, High Lonesome Bird Tours, listening to calling birds long before daylight.
"Our experience…was fantastic, with close-up looks and outstanding friendly service. We will certainly be bringing more birders your way in the future!" wrote Carl Bendorf, Colorado Birding Adventures.
The Ranches
Smoky Valley Ranch and the Hoeme Ranch are in the historic Smoky Hills of western Kansas. The short and mid-grass prairie is pristine enough to also support black-footed ferrets, swift foxes, buffalo, prairie dogs, burrowing owls, ferruginous hawks and many more classic species.
Both ranches are deeply involved in wildlife research and conservation programs.
The Hoeme Ranch is the winner of the prestigious 2018 Leopold Conservation Award and many other honors. It's about 9,000 acres in size and owned by one of America's top ranching/conservation families. By using cattle to replicate the natural grazing patterns of buffalo, they've proven good ranching and wildlife conservation can co-exist. The Hoeme Ranch has figured heavily in important lesser prairie chicken research and provided birds to re-establish populations in other areas.
Stacy Hoeme, family patriarch, has probably been the leading civilian conservationist in western Kansas for years. Chaston Hoeme, 28, has repeatedly traveled to Washington, D.C. to promote conservation and ranching causes.
Smoky Valley Ranch is the 18,000-acre ranch owned by the Nature Conservancy of Kansas. Ranch manager, Matt Bain, earned his master's degree studying lesser prairie chickens.
The ranch has sprawling prairie dog towns and is one of few private lands with black-footed ferrets. Smoky Valley Ranch uses buffalo and cattle for grassland management. It is also home to Little Jerusalem Badlands State Park, one of the most stunning landscapes in the American west.
Dwight Abell Ranch site – Gove County (Oakley)
"The mix of native grass and forb species in Abell's CRP grasslands—including big bluestem, little bluestem, switch grass, buffalo grass, western wheat grass, and plenty of insect-rich flowering forbs—provides prime habitat for lesser prairie-chickens." "That grassland bird diversity was the focus of a 2015 study through the Bird Conservancy of the Rockies (formerly the Rocky Mountain Bird Observatory).  Abell's ranch was one of the study sites for research assessing the extent to which LPCI conservation practices for the lesser prairie-chicken increase populations of other grassland bird species." - Taken from "The Lesser Prairie Chicken Initiative"
The Experience
Blinds range from portable lek-side structures to "the lek express," a school bus customized so guests can move about freely and get great looks through binoculars or scopes from about 80 yards. There are restrooms on each ranch, but not in the blinds.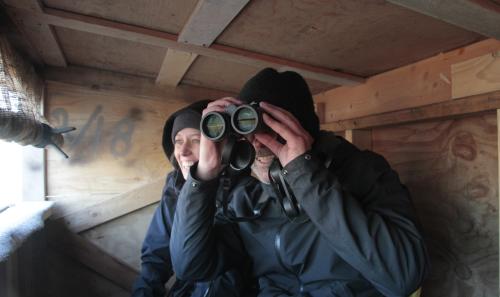 Guests are urged to make their own arrangements for accommodations in Scott City or Oakley. Contact information and recommendations can be provided. Local guides will contact groups the night before, often in person, to discuss procedures and ranch rules. Guests follow the guide to the blind in their own vehicle in the morning.
Blind time ranges from two to four hours. Those sitting lek-side will stay until the birds have left the lek late in the morning.
We request birders wear binoculars while in the area, to help show local residents the great impact eco-tourism/birding can have on local economies.
Costs
Total cost for the viewing experience is $80 per person. Ranchers get the majority of the funds to encourage conservation practices. The rest covers local guides and booking fees. Tour leaders of accredited tour companies are exempt from that cost. There is a $320 minimum per blind. Should one lek fail, (which has yet to happen) groups will be taken to another at no charge.
Gratuities to the guides are greatly appreciated because of the long hours they spend guiding and scouting for their guests.
For more information
For questions about the birds, the blinds or the ranches, contact Jim Millensifer - jhmillensifer@gmail.com or (785) 953-1139. For rules and more information, please visit: www.buffalobilloakley.org