Tips for Your Trip

Getting to the River
There are several public access boat ramps along the Kansas River. Look for signs along the road with the National Water Trail logo to find access points.
Before You Paddle
Check the water levels and weather before you reach the water. Beginning paddlers should not be on the river when the water flow is above 5,000 cubic feet per second. The weather in Kansas can change quickly. Be aware of forecasts calling for high winds or storms. It is also a good idea to let a family member or friend know about your trip – where you plan to paddle and when you plan to return home.
What to Bring:
personal flotation devices (PFDs), or life vests, are a must, and each paddler (and their pets) should have one
extra ropes or lines
bail bucket
whistle or air horn to signal distress (whistles should be attached to PFDs)
first aid kit
dry change of clothes in cooler weather
plenty of water and food
flashlight, lantern or other light if you'll be out in low-light conditions
sun protection – hats, sunscreen, long sleeves and pants
map
cell phone in waterproof bag (be aware that some areas along the river may not have cell signal coverage)
(optional) camera or binoculars (in waterproof bags), animal and plant identification guides
River Safety and Etiquette
The Kansas River is a very big river, and a lot of factors – water Levels, hazards, weather, paddler inexperience – can quickly turn an enjoyable paddle trip into an extremely dangerous situation. If you're new to paddling or have never been on the Kansas River before, it is recommended that you travel with experienced paddlers or as part of an organized trip. Friends of the Kaw plan group paddle trips from April through mid-October. 

Don't plan to paddle more than you can handle; 10 miles makes for a good and relaxing all-day trip. Hazards such as dams and weirs are marked on the map with a red icon 
. Before your trip, examine the map (link to "Kansas River Trail Maps" page) to determine what portion of the river you'll be navigating and take these extreme hazards into account.

Canoe and Kayak Safety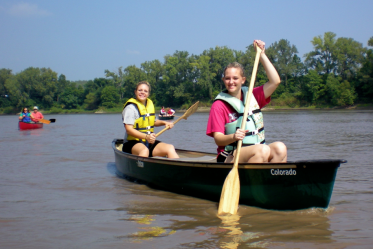 It is recommended that you always wear a life jacket and paddle with a minimum of two boats. Take at least one extra paddle in case you drop or break one. Put your equipment into a waterproof bag and tie it to one of the center beams in the canoe so you don't lose your gear if the canoe tips. Keep an eye out for other boat traffic and maintain an appropriate distance. Also try to keep your canoe at right angles to big waves. Look out for hazards such as low branches, fallen trees, rocks and debris. If your boat tips over, don't panic. It will float, even if it is full of water, and you can wait until you get to shore to empty it. Stay with your canoe and paddle or push it toward the shore. When you get to shallow water, flip the canoe with the help of your paddle partner and carefully climb back in.

River Navigational Signs 
Along the river you'll see yellow signs like this one 
. These signs show the distance between access points. In the example shown here, it is 2 miles to the next access point at Manhattan. When you reach the Manhattan access point, you'll see a sign with just an "M."

Private Land Access
State law provides that the area between the high water marks on either side of the Kansas River is public property. Most of the land above the high water marks is privately owned, and public access is prohibited.

In an emergency, paddlers may cross through private land to seek medical or other emergency assistance. If you find yourself in this situation, please be responsible and respectful – close any gates you open and do not deface or destroy any property. If possible, leave a note with any equipment you have to leave behind. Be sure to include the date and your contact information.

Fort Riley Access
Fort Riley  is an active military installation and access to the fort is regulated. Paddlers should observe the high water marks to make sure they are on public property. Trespassing onto the military reservation is prohibited. Visitors who wish to enter the fort must do so at one of the security checkpoints. Visitors are required to have a valid state-issued driver's license, state-issued identification card, passport with stamp or a visa. 
Please Note: Enjoy your experience on Kansas waterways and stay healthy after touching the water by washing or disinfecting your hands, particularly before eating.

Aquatic Nuisance Species (ANS)
Zebra mussels, Asian carp and other non-native species threaten the Kansas River and other waterways. Kansas has regulations in place to help slow the spread of these species. You can help by following these regulations and precautions:
 Use live bait only where you catch it.
Do not transport live fish from the Kansas River or other ANSdesignated waters.
Dispose of unused bait on land or in an approved bait receptacle.
Clean your boat after removing it from the water, being sure to remove vegetation, mud 
     and zebra mussels; wash with water that is 140?F or hotter.
Livewells and bilges must be drained and drain plugs removed before transport.
If you cannot properly clean your boat, allow it to dry for five days before moving it to another body of water.

Visit ProtectKSWaters.org for the latest information on ANS and how you can prevent the spread of these species.