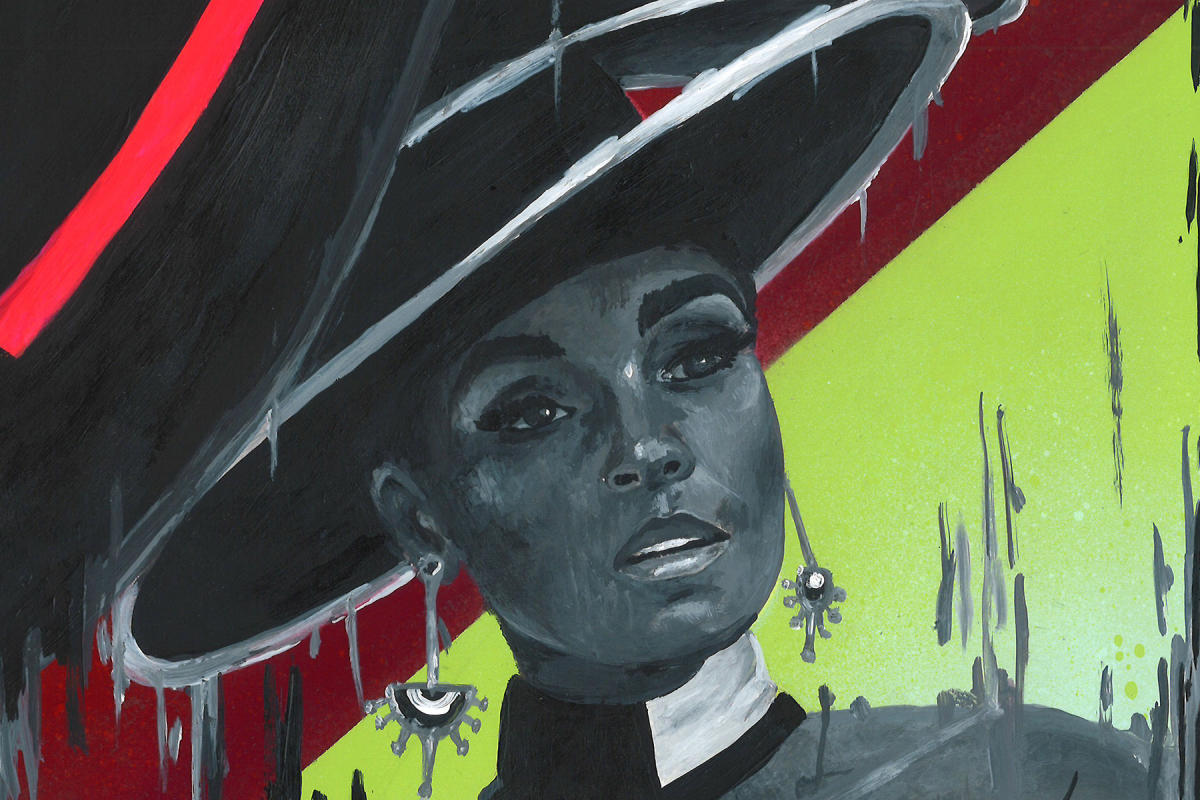 Many Kansas-born artists, musicians, actors, and other creative types came of age and into their careers in other states and countries: horror hostess Elvira was born Cassandra Peterson in Manhattan but grew up in Colorado Springs; Roscoe "Fatty" Arbuckle was born in Smith Center but moved to Santa Ana, California, at the age of two. The eponymous Katrina Leskanich of Katrina and the Waves was born in Wichita but moved around with her military family. These are just a few. But some entertainers are born-and-raised Kansans whose connection to the state and their family in it informs their performance. One of these is the singular talent and one of the most innovative contemporary R&B singers and actresses—Janelle Monáe.
The Kansas City, Kansas, native's debut release, a 2003 collection of demos titled The Audition, laid the framework for what would turn into a seven-part suite modeled after the 1927 German expressionist science-fiction film, Metropolis. Casting herself in the character of an android named Cindi Mayweather, Monáe began exploring concepts related to futurism and identity, as expressed in "Tightrope," the lead single from her 2010 full-length debut, The ArchAndroid, which she kicks off with the line, "Some people talk about ya like they know all about ya."
For the majority of the 2010s, Monáe's music was cloaked in the abstraction that was Cindi Mayweather, a tuxedo-sporting, gender-fluid, quiff-sporting character, yet—as NPR's Sydnee Monday wrote for NPR when Monáe released her third LP, Dirty Computer, in 2018—"Even when Monáe sings in character, the sense of something immediately true to her own life bobs into and outside of these voices." The piece, appropriately enough, was titled "Janelle Monáe Is the 21st Century's Time Traveler."
The list of fellow musical innovators who have been attracted to Monáe's work reads like a who's-who of creative geniuses in the music world. The aforementioned "Tightrope" features Outkast's Big Boi, who—along with André Benjamin—would be one of the musician's earliest mentors. Her Black Lives Matter song, "Hell You Talmbout," a recitation of the names of African Americans killed by police, was covered by David Byrne during his American Utopia tour as the closing encore. And as was revealed after the release of Dirty Computer, that album drew in the talents of Prince, whose influence and work can be heard in the single "Make Me Feel."
In 2016, the musician made her acting debut in the acclaimed dramas Moonlight and Hidden Figures. While Monáe had songs featured on the soundtracks for both films, her roles in both allowed her to continue on the path that had led her to attend the American Musical and Dramatic Academy in New York City.
Her success also seemed to allow the performer to become increasingly innovative and open about herself. While Monáe's work up until Dirty Computer was forward-thinking, with live shows that featured a massive band and Monáe dancing up a storm in front of it, there was something akin to a distancing going on. By 2018, things had changed. Monáe's Dirty Computer saw the musician able to speak to many facets of her life heretofore unaddressed in such a frank manner. She came out as pansexual, publicly embraced her relationship with actress Tessa Thompson (best known to the public for her starring role of Valkyrie in the Marvel superhero films), and put out an album-length series of videos, all of which looked to these topics and more. It's such a change from her previous albums, critic Robert Christgau, writing for Vice, said, "this one is more personal than the android dared." Songs like "Pynk" were explicitly queer and woman-centric, while "Django Jane" not only shouts out her adopted hometown of Atlanta, but her actual hometown when she raps, "Straight out of Kansas City, yeah we made it out there."
While Monáe may now be a citizen of the world, and beloved all over, she still has her connections to Kansas. As she said to Justin Curtoe in a piece for Kansas City Magazine in August of 2018, Dirty Computer is an album for all the "young women, people of color and queer people" in the region: "This album is for you. I hope you feel seen, I hope you feel heard, I hope you feel celebrated."
More Articles You'll Enjoy