Widening Circles
Presented By:
Salina Art Center
Dates:
September 23, 2020 - November 1, 2020
Recurrence:
Recurring weekly on Sunday, Wednesday, Thursday, Friday, Saturday
Location:
Salina Art Center
Address:
242 S Santa Fe, Salina, KS 67401
Phone:
(785) 827-1431
Time:
11:00 AM to 5:00 PM
Price:
FREE
Visit Website
Widening Circles — Eileen Roscina Biennial artist, Eileen Roscina, was our resident artist in the South Gallery, August 25 - September 5. Her exhibition is from September 2 – November 1. Roscina is an artist, experimental filmmaker and naturalist currently living in Denver, Colorado. For her exhibition, she created this dream kitchen and created a wallpaper made of pressed flowers. The pattern of the wallpaper is inspired by a voronoi pattern, the way in which bubbles are arranged in nature. This is an indicator of nature's tendency to favor efficiency: the nearest neighbor, shortest path, tightest fit. This idea leads to the physical and social bubbles we currently live in. Humans are experiencing the impacts of a new world with limited contact and touch. Roscina looks ahead to the day when we don't have to think twice about widening our bubbles, our circles. However, right now, when in the kitchen baking bread, fermenting, or cooking more than usual, bubbles are a sign of life - a sign of hope.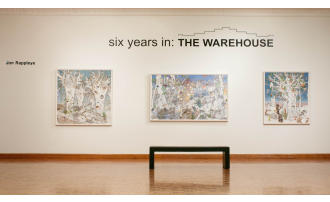 (785) 827-1431
•

242 S Santa Fe, Salina

•

Map it Visit Website

An innovative contemporary art space focusing on the art, artists, and culture of our time. The Salina Art Center bridges... Learn more