Wichita Jazz Festival 2020
Dates:
4/15/2020, 4/16/2020, 4/17/2020, 4/18/2020, 4/19/2020
Location:
Crown Uptown Theatre
Address:
3207 E Douglas, Wichita, KS 67218
Phone:
3166127696
Time:
7:30 PM to 10:30 PM
Price:
$15 - $150, Price varies each evening
Visit Website
Join us for a jam-packed jazz week as Wichita Jazz Festival (WJF) will host its annual festival April 15-19 2020. You won't want to miss this lineup including local Kansas talent and six-time GRAMMY®-winning jazz bassist, Christian McBride. Alongside McBride, each evening selected artists such as Sean Jones, Marcus Lewis and more will perform at the Crown Uptown Theatre. April 15 - Movie Night at The Lux | $15 April 16 - Ad Astra Concert featuring Marcus Lewis Quintet & WJF Sessions Band | $20 April 17 - Sean Jones with WSU Jazz Arts Ensemble I & Delano Jazz Orchestra | $20 April 18 - Christian McBride | $40, Hyatt Regency After Party | $50 April 19 - Jazz in the Neighborhood at McAdams Park | Free April 16-18 events take place at Crown Uptown Theatre. To learn more about each evening's events and read each artist's bio, check out the events page on our website! To attend our marvelous 2020 festival, guests will either need to purchase a festival pass or single day tickets. The $150 Festival pass is all-encompassing, including membership in WJF (See WJF website for list of perks), a ticket to our first screening of Movie Night at The Lux, tickets to every evening concert or event, upfront seating at the Crown Uptown Theatre, and a ticket to the Saturday night After Party at the Downtown Hyatt Regency hotel. Festival Passes are available now at www.wichitajazzfestival.com. All single day tickets for Crown Uptown Theatre events are available now www.crownuptown.com. Tickets will also be sold at the door, but may be limited. To learn more about receiving student priced tickets in advance contact us directly at wichitajazzfestival@gmail.com. In addition, student discounts will be offered day of show.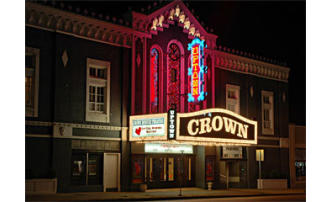 (316) 681-1566
•

3207 E Douglas, Wichita

•

Map it Visit Website

The Crown Uptown Dinner Theatre is the premier dinner theatre in the city of Wichita. The Crown produces 7 Broadway Style... Learn more