Voices from the Past
Presented By:
Blue Rapids Historical Museum
Dates:
September 14, 2016 - October 2, 2016
Recurrence:
Recurring daily
Location:
Fairmont Cemetery
Address:
North of Blue Rapids, Blue Rapids, KS 66411
Phone:
(785) 363-7949
Time:
2:00 PM
Price:
$5 for Adults, Children Free if accompanied by an Adult
Visit Website
Voices from the Past is a cemetery walk featuring re-enactors portraying historical individuals and will begin at 2 p.m. in the Fairmont Cemetery. Eight men and women will be portrarying individuals from town history, and most are new characters, so if you came to Voices in the Past in previous years you'll be hearing about brand new figures from Blue Rapids and Marshall County history. Golf carts will be provided for those that do not wish to walk. In case of inclement weather, the presentation will be held in the Blue Rapids Museum on the square downtown.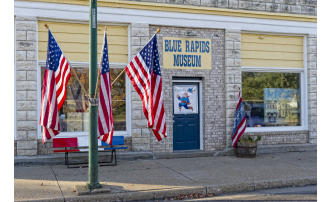 (785) 363-7949
•

36 Public Square, Blue Rapids

•

Map it

The Blue Rapids Historical Museum captures the history of the people and businesses of Blue Rapids. A changing exhibit is... Learn more