Third Thursday
Presented By:
Downtown Hutchinson
Dates:
January 18, 2018 - December 20, 2018
Recurrence:
Recurring monthly on the 3rd Thursday
Location:
Downtown Hutchinson
Address:
125 E Ave B, Hutchinson, KS 67501
Phone:
(620) 663-6179
Time:
5:30 PM to 8:30 PM
Price:
No Admission
Visit Website
Third Thursday of each month, It's Third Thursday! Every month is special and you don't want to miss it. Music, art, fun and more - all downtown. For more information on Third Thursday, please contact Jeff Johnson, director of community events at Hutch Rec, at jjohnson@hutchrec.com or (620) 663-6179. Additional details also available on the Third Thursday Facebook page and the website at thirdthursdayhutch.com.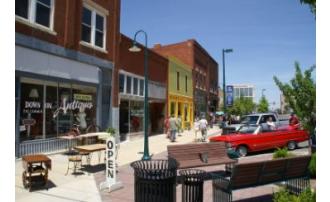 (620) 694-2677
•

125 East B - City Hall, Hutchinson

•

Map it Visit Website

Downtown is proud to be home to many treasures such as it's Antique District, Unique Boutiques, Arts, Theaters, Avenue A Park... Learn more