THE YETI obstacle course
Presented By:
Zip KC
Dates:
January 30, 2021
Location:
Zip KC
Address:
12829 Loring Rd, Bonner Springs, KS 66012
Phone:
(913) 214-9478
Time:
10:00 AM to 2:00 PM
Price:
$39 for early waves, $34 for later waves
Visit Website
Join The The YETI and go buck wild on over 25 fun & challenging obstacles intended to get you off your butt and out of the house because There is No "OFF" Season here at KC Timber Challenge! Obstacles include Low Rig, Slalom Ski, Slingshot, Floating Walls, Vertigo Bus and the always entertaining EPIC total car annihilation brought to you by Santa Fe Tow. Yes... that means you get to destroy a vehicle on the course. (Have no fear; there will NOT be any water obstacles) Registration Includes: Event Entry, T-Shirt (or long sleeve add on), souvenir wristband, 3 inch Finisher Medal, 1 Free Beer and tons of Event Pictures proving your awesomeness! "Is it worth it? Let me work it... I put my thing down, flip it and reverse it! Ti esrever dna ti pilf, nwod gniht ym tup" The YETI is unlike any of our other events because the course is done in reverse! ARE YOU YETI? Don't miss the COOLEST event of the year. Sign up now!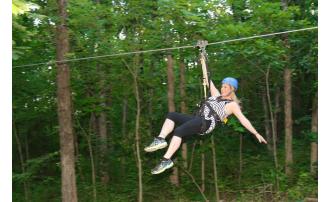 (913) 214-9478
•

12829 Loring Dr., Bonner Springs

•

Map it Visit Website

Zip KC hosts Kansas Cities wildest zip line adventures! Soar high above the bluffs of the Kansas River on 9 zip lines... Learn more