The Spaces Between
Presented By:
Salina Art Center
Dates:
October 21, 2020 - January 3, 2021
Recurrence:
Recurring weekly on Sunday, Wednesday, Thursday, Friday, Saturday
Location:
Salina Art Center
Address:
242 S Santa Fe, Salina, KS 67401
Time:
11:00 AM to 5:00 PM
Price:
FREE
Visit Website
This exhibition features three Kansas artists; Lynn Benson, Robert Bubp, and Tim Stone. With a different approach each artist explores the edges and tensions inherent in the spaces we occupy. Lynn Benson's paintings and collages focus on rivers and waterways, creating abstracted images from google map views. The rivers she chooses often represent areas of conflict: trade routes, oil spills, pollution, areas where the access to resources is contested. Bubp's work uses walking as an act of insurgency, portraying the collisions between public and private space. Using etched steel, video, and interactive installations, Bubp asks us to consider the right to occupy these grey areas and how it feels to travel within other people's spaces. Stone questions our experiences of space through surreal interiors and imagined landscapes. His paintings and collages hint at the familiar, yet remain undefinable, creating feelings of tension and anxiety that reflect our current unsure times.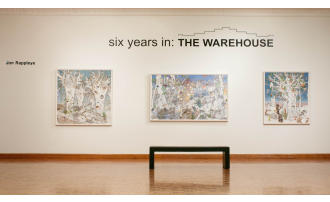 (785) 827-1431
•

242 S Santa Fe, Salina

•

Map it Visit Website

An innovative contemporary art space focusing on the art, artists, and culture of our time. The Salina Art Center bridges... Learn more