Test Batch Throwdown - Beer Fest & Concert
Presented By:
Cotillion, The
Dates:
February 8, 2020
Location:
Cotillion, The
Address:
11120 W. Kellogg, Wichita, KS 67209
Phone:
(316) 722-4201
Time:
3:00 PM to 11:00 PM
Price:
$40 for Beer Fest & Concert or $20 for concert only
Visit Website
TEST BATCH THROWDOWN presented by Wichita Brewing Company and The Cotillion Saturday, February 8 Featuring rare, limited or tap room exclusives from Odell Brewing, Wichita Brewing Company and Hopping Gnome Brewery. Also Featuring music from Carrie Nation and the Speakeasy, Spirit of the Stairs and Kill Vargas Don't miss one of the most unique beer festivals of its kind, Test Batch Throwdown! 20 rare, limited or tap room exclusives from three truly unique breweries. Details: Beer Fest and Concert Ticket (21+ only) -3pm entry -goodie bag with custom tasting glass -10 drink tickets for sampling the rare releases -access to concert at 7pm Because these beers are limited batches or exclusive beers you will not be able to find at your liquor stores the drink tickets and beer fest will be limited. Depending on advanced sales there may be additional drink tickets available. $20 Concert Only (all ages) CARRIE NATION AND THE SPEAKEASY Spirit of the Stairs Kill Vargas - limited brews may be available for purchase depending on availability - Regular concession stands will be open for business - Doors at 6pm, - Concert at 7pm Nancy's amazing sandwiches and Noble House Poke station as well as Cotillion concessions will be available for purchase.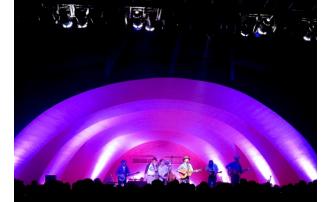 (316) 722-4201
•

11120 W. Kellogg, Wichita

•

Map it Visit Website

The unique circular design of the building has large wooden beams supporting a 24-foot high domed ceiling over an 11,000 sq.... Learn more