Svensk Hyllningsfest
Presented By:
Lindsborg Convention and Visitors Bureau
Dates:
10/8/2021, 10/9/2021
Location:
Downtown
Address:
Main & Lincoln Streets, Lindsborg, KS 67456
Phone:
(785) 227-8687
Time:
9:00 AM to 11:00 PM
Price:
All events are FREE to enter unless otherwise noted.Hyllningsfest buttons are $5 in advance or $10 at the event. The buttons are support buttons that help cover the cost of the festival, most of which is free to our visitors.
Visit Website
Occurring in October of odd numbered years, the residents of Lindsborg host a community-wide festival and don traditional Swedish folk costumes to celebrate the Swedish pioneers who settled the Smoky Valley in 1868 – 1869. The festival features art and crafts, special foods, ethnic music, and other special entertainment while Swedish folk dancers and musicians add to the flavor of the festival. Newcomers have as much fun "becoming Swedish" as do the long time residents. This community closeness may be the highest tribute we can pay to the immigrants who also exemplified this kind of unity - a fitting legacy for future residents of the Smoky Valley. Folk dancing and folk music lend a unique character and spirit to Svensk Hyllningsfest. The Dancers - from eager young grade school students who have been practicing for months, to the Lindsborg Swedish Folk Dancers (high school age students) and the Lindsborg Folkdanslag (their adult counterparts) - are charming and enthusiastic performers. The festival also features live demonstrations of cooking, arts, crafts, and folk costumes among others. The parade, featuring area marching bands, floats, antique cars, and other parade entries, is a key attraction. See here for the full schedule. One of the best loved events at each Hyllningsfest is the Swedish Smörgåsbord. The reason is simple – the food. Savor the Smörgåsbord, a Scandinavian feast. Admittance to the Smörgåsbord is by ticket only, which to the chagrin of many, are sold out within a couple of months from the time they go on sale. Tickets are available for purchase here.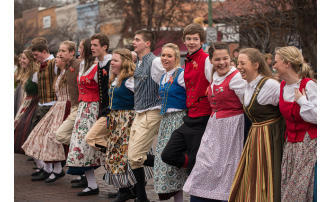 (785) 817-2119
•

410 N Washington, Lindsborg

•

Map it Visit Website

This famed biennial festival in Lindsborg celebrates Swedish pioneers who settled the Smoky Valley in 1868 and 1869.... Learn more