Storm Large & Le Bonheur
Presented By:
McCain Auditorium
Dates:
March 23, 2019
Location:
The Wareham
Address:
410 Poyntz Avenue, Manhattan, KS 66502
Phone:
(785) 532-6428
Time:
9:30 PM
Price:
Please Inquire
Visit Website
Storm Large has been making a name for herself from tours with Pink Martini to Carnegie Hall. But it is with her loyal and fearless band, Le Bonheur, that she has been grabbing audiences by the lapels and refusing to let go. Large's fierce and fiery show includes the American songbook, Broadway tearjerkers, rock goddess anthems and some of her own gorgeous originals. Program to Include: Cole Porter "I've Got You Under My Skin" Rodgers & Hart "Lady Is A Tramp" Jacques Brel "Ne Me Quitte Pas" Storm Large "Angels In Gas Stations" Johnny Cash "Long Black Veil" Prince "Nothing Compares 2 U" A & M. T. Lara "Piensa En Mí" Guy Lafarge "La Seine" As well as selections from Tom Waits, Randy Newman, Lou Reed and Black Sabbath Performing at 7 and 9:30 p.m. at the Wareham Opera House. Parental Advisory: This performance may contain strong language and adult themes. McCain Performance Series season tickets (7 or more shows) are on sale now. Single tickets on sale July 29.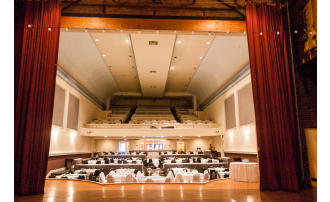 (913) 269-1404
•
Map it
Visit Website
The Wareham is an historic Manhattan event venue that is perfect for weddings, corporate events, concerts and more. Learn more