Reno County Farmer's Market
Presented By:
Downtown Hutchinson
Dates:
June 19, 2019 - September 25, 2019
Recurrence:
Recurring weekly on Wednesday
Location:
Farmer's Market Pavilion
Address:
W 2nd Ave, Hutchinson, KS 67501
Phone:
(620) 960-1037
Time:
10:00 AM to 1:00 PM
Price:
No Admission
Visit Website
The Farmer's Market is located at the corner of 2nd Ave. and Washington Street in Historic Downtown Hutchinson. The Market hours are 7:30am-12:30pm. on Saturdays beginning May 18, and 10:00am-1:00pm on Wednesdays beginning mid June. For more information about the market call 620-960-1037 or email renocountyfarmersmarkethutch@gmail.com. Most Saturdays there is also entertainment sponsored by the Reno/Hutchinson Arts & Humanities and the Farmer's Market Association.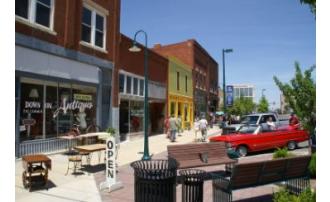 (620) 694-2677
•

125 East B - City Hall, Hutchinson

•

Map it Visit Website

Downtown is proud to be home to many treasures such as it's Antique District, Unique Boutiques, Arts, Theaters, Avenue A Park... Learn more