Public Ghost Hunt
Presented By:
Reno County Museum
Dates:
March 21, 2020
Location:
Reno County Museum
Address:
100 S Walnut, Hutchinson, KS 67501
Phone:
(620) 662-1184
Time:
7:00 PM to 11:59 PM
Price:
Early-bird Registration $25.00 per person thru February 29.Registration $40.00 per person March 1- March 21.
Visit Website
Is the Museum Haunted? That's a question that has been asked by many Museum visitors and now we are giving you the chance to find out for yourself during our public ghost hunt. We've partnered with volunteers from the Wichita Paranormal Research Society to bring you a paranormal experience like no other. You will get to hunt for the evidence first-hand inside the Reno County Museum, including restricted areas that are not usually open to the public. We will start the evening with a presentation with the Wichita Paranormal Research Society as they discuss the equipment used during investigations as well as their experiences. Staff will also present information about the Museum and its history, including stories of the rumored hauntings. After the presentation, groups will split up inside the Museum to start the ghost hunt, at the end of the evening everyone will reunite and share what was experienced. Water and light refreshments will be provided. To register visit our website or call 620-662-1184. Space is limited. Must be 16 or older to attend and a parent or guardian must be present for those under 18 . Doors open at 6:45 p.m.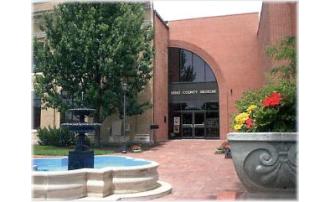 (620) 662-1184
•

100 S Walnut, Hutchinson

•

Map it Visit Website

Adjacent to beautiful George Pyle Park, the Reno County Museum showcases a lovely courtyard, exhibits, programs and special... Learn more