Pittsburg Farmer's Market
Dates:
April 2, 2016 - October 29, 2016
Recurrence:
Recurring weekly on Saturday
Location:
114 E. 11th St., Pittsburg, KS 66762
Address:
114 E. 11th St., Pittsburg, KS 66762
Phone:
417-437-3564
Time:
From: 7:30 AM to 12:00 PM
Price:
free admission
Visit Website
The Pittsburg Farmers Market is open from April to October on Saturdays, rain or shine. Located at our new location off of 12th and Broadway Streets in historic downtown Pittsburg, Kansas, the Pittsburg Farmers' Market is a great place to find in-season produce, baked goods, jams and jellies, crafts, and other great, locally-produced merchandise. The market is open from 7:30 AM until 12:00 PM. Parking available on 12th Street east of Broadway. The Pittsburg Farmer's Market is producer-only, meaning everything at the market is grown (or created) and sold by the vendors themselves. Eating local has never been easier, as all vendors are based within a 75-mile radius of Pittsburg.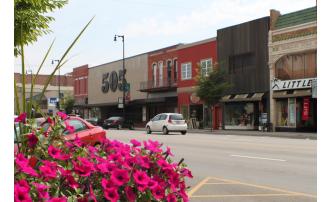 (620) 231-1212
•

401 N. Broadway, Pittsburg

•

Map it Visit Website

Downtown Pittsburg is home to over 80 stores and storefronts with many unique and local favorites found here. Downtown is... Learn more