NJCAA Division I Men's Basketball Tournament
Presented By:
Hutchinson Sports Arena
Dates:
March 14, 2022 - March 19, 2022
Recurrence:
Recurring daily
Location:
Hutchinson Sports Arena
Address:
700 East 11th, Hutchinson, KS 67501
Phone:
(620) 669-9846
Time:
vary daily
Price:
$13 - $65
Visit Website
The 75th Annual Championship in Hutchinson will take place at the newly-renovated Sports Arena on March 14-19, featuring the top 24 teams in Division I men's basketball. The single-elimination seeded bracket is comprised of 16 District Champions and eight at-large selections. Basketball fans from around the country travel to Hutchinson each year for The Tournament to watch the best young collegiate basketball players compete for a national championship at one of the top sporting events in the country. Ticket information will be available at www.njcaahutchtourney.com or can be purchased in the ticket office at the Sports Arena during the Championship.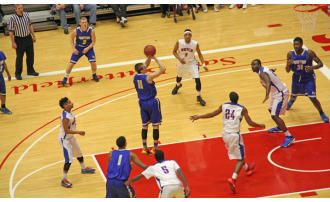 (620) 665-3530
•

700 East 11th, Hutchinson

•

Map it

The Hutchinson Sports Arena has been the home of the Men's NJCAA National Basketball Tournament since 1949. Every March, 24... Learn more