Lenexa Chili Challenge
Dates:
October 14, 2016 - October 15, 2016
Recurrence:
Recurring daily
Location:
Old Town Lenexa
Address:
Santa Fe Trail Drive & Pflumm Road, Lenexa, Kansas 66215
Phone:
913-477-7100
Time:
6-10 p.m. on Friday, Oct. 14; 10 a.m.-3 p.m. on Saturday, Oct. 15
Price:
Free
Visit Website
The hearty smell of chili and flavorful spices will fill the air in Old Town Lenexa for the annual Lenexa Chili Challenge. Nearly 200 teams vie for the top prize in a variety of categories: CASI (Chili Appreciation Society International) and Home Style chili, salsa and hot wings. The festivities begin Friday night with live music and fireworks. The contest takes place Saturday. There are lots of free chili samples for the public, as well as games, activities and live music.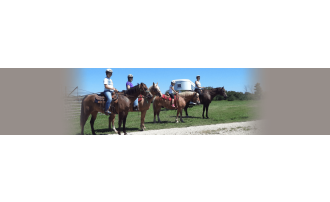 (785) 215-2296
•

4215 E. 245th St., Lyndon

•

Map it Visit Website

We offer guided horseback trail rides, wagon rides, horse motel facilities and Centered Riding instruction. Biking and hiking... Learn more