Lake Garnett Grand Prix Revival
Dates:
October 7, 2017 - October 8, 2017
Recurrence:
Recurring daily
Location:
North Lake Park
Address:
600 N. Lake Rd, Garnett, KS 66032
Phone:
785-448-5534
Time:
8:00 AM to 7:00 PM
Price:
Spectators free
Visit Website
Garnett is famous for the national sports car races held from 1959 to 1972 on the road course that circles Lake Garnett. Those races brought tens of thousands of people to the rural community for a race weekends, and many racing legends have graced these historic grounds. In October of 2017, the Lake Garnett Grand Prix Revival will celebrate history and allow you the opportunity to embark on creating your own history. Sports car enthusiasts will gather for a special event that includes 2 full days of activities, such as laps around a historic race track, a car show, and autocross event and much more. The event begins with a barbecue on Friday night, October 7th at 6:30 p.m. for participants and volunteers. Saturday and Sunday's schedule is filled to the rim with autocross, car show, parade, lunch, track events and awards. Make lodging reservations now and make plans to attend what could be the beginning of a long lasting revival of sports car history! For event updates visit www.lggpr.org.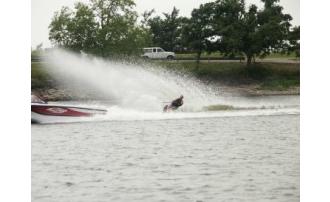 (785) 448-5496
•

North Lake Rd, Garnett

•

Map it Visit Website

Lake Garnett's dam, swimming pool, football stadium, and shelterhouse amenities were a project of a CCC Camp completed in... Learn more