KSHSAA 3A State Boys & Girls Basketball Championship
Presented By:
Hutchinson Sports Arena
Dates:
March 11, 2020 - March 14, 2020
Recurrence:
Recurring daily
Location:
Hutchinson Sports Arena
Address:
700 East 11th, Hutchinson, KS 67501
Phone:
(620) 665-3530
Time:
3:00 PM to 9:00 PM
Visit Website
Best 3A boys and girls basketball teams compete for State honors in the Kansas State High School Activities Association Class 3A basketball championship. Games begin at 3:00 PM, Wednesday-Friday; Noon on Saturday. Visit the KSHSAA website for more details and bracket information.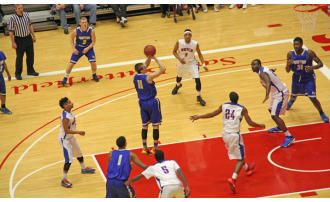 (620) 665-3530
•

700 East 11th, Hutchinson

•

Map it

The Hutchinson Sports Arena has been the home of the Men's NJCAA National Basketball Tournament since 1949. Every March, 24... Learn more