Kathy Mattea featuring Bill Cooley
Presented By:
The Wareham
Dates:
March 3, 2017
Location:
The Wareham
Address:
410 Poyntz Ave, Manhattan, KS 66502
Phone:
(785) 532-6425
Time:
7:00 PM
Price:
The McCain box office is open weekdays 11:30 a.m. to 4:30 p.m. and 90 minutes before each performance. 785.532.6428
Visit Website
Grammy-winning bluegrass singer Kathy Mattea and her longtime collaborator, guitarist Bill Cooley, share one of Nashville's most musically rich partnerships. The duo meets as old friends, welcoming you into "The Acoustic Living Room" to play songs near and dear to their hearts – including Mattea's beloved classics such as "18 Wheels and a Dozen Roses."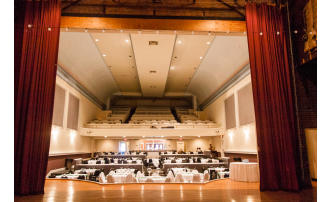 (913) 269-1404
•
Map it
Visit Website
The Wareham is an historic Manhattan event venue that is perfect for weddings, corporate events, concerts and more. Learn more