Kansas City T-Bones
Presented By:
T-Bones Stadium
Dates:
5/17/2019, 5/18/2019, 5/19/2019, 5/20/2019, 5/21/2019, 5/22/2019, 5/27/2019, 5/28/2019, 5/29/2019, 5/30/2019, 5/31/2019, 6/2/2019
Location:
T-Bones Stadium
Address:
1800 Village West Pkwy, Kansas City, KS 66111
Phone:
(913) 328-2255
Time:
7:05 PM
Price:
$6.00-$16.00
Visit Website
See the Kansas City T-Bones in action at CommunityAmerica Ballpark! Enjoy affordable family entertainment and unique fun between-inning events. Featuring a kid's play area, kiddie concession stand, weekly food specials and huge firework displays! Click HERE for tickets and game information! Click HERE during the game to see what's happening at the T-Bones Stadium on our live stream camera! Make sure to check back often, the view is always changing!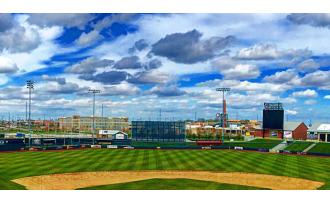 (913) 328-5618
•

1800 Village West Pkwy, Kansas City

•

Map it Visit Website

CommunityAmerica Ballpark is home to the Kansas City T-Bones minor league professional baseball team. There's no bad seat at... Learn more