ICT Roller Derby Monster Mashup
Presented By:
Cotillion, The
Dates:
October 20, 2018
Address:
11120 W. Kellogg, Wichita, KS 67209
Time:
5:00 PM to 9:00 PM
Price:
$12.50 in advance; $14 at the door; Kids 11 and under FREE
Visit Website
ICT ROLLER DERBY MONSTER MASHUP October 20, 2018 5:30 PM Doors Open: 5:00 PM Advance Tickets: $12.50 Tickets Day of: $14 Kids 11 and under FREE! Game 1 (Co-ed Junior) Moon Howlers V Zombie Squad Game 2 ( Adult Co-ed) Smack O Lanterns V Fright Club We will be hosting our annual art auction fundraiser! Items will be available for you to purchase via silent auction. We will have some wonderful art from skaters and local artists. We appreciate your support! Don't forget to about the best seat in the house! Raffle tickets for couch seating will be available. All seating is general admission. Table reservations are available at The Cotillion or by calling 316-722-4201. Concessions and full bars open! Also featuring local favorites Nancy's A-Maize-N Sandwich Booth and Wichita Brewing Company Hand-Crafted Beers! No Refunds - No Exchanges Support acts subject to change Text SPORTS to 49798 for updates and chances at free tickets!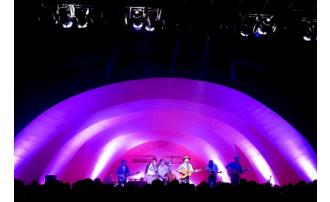 (316) 722-4201
•

11120 W. Kellogg, Wichita

•

Map it Visit Website

The unique circular design of the building has large wooden beams supporting a 24-foot high domed ceiling over an 11,000 sq.... Learn more