Hyde Park Luminaries
Presented By:
Hyde Park
Dates:
December 21, 2019
Location:
Hyde Park
Address:
Main to Monroe and 18th to 23rd, Hutchinson, KS 67502
Phone:
(620) 694-9310
Time:
6:00 PM to 10:00 PM
Price:
No Admission
Visit Website
Stroll, drive, or ride through Hutchinson Hyde Park's beautiful neighborhood for the 35th annual Christmas Luninaria. Meet Santa at the corner of 20th and Washington, and enjoy musical entertainment, horse-drawn wagon rides and cider and cookies at Hyde Park. **RCAT to provide free bus rides through the neighborhood. Please do not park in the area of the Luminaria to preserve the beauty of this event.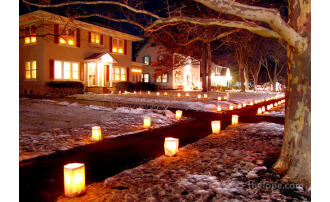 (620) 662-1517
•

Hyde Park, Hutchinson

•

Map it

Annual event showcases Hutchinson's Hyde Park neighborhood (Main to Monroe, 18th to 23rd) which will be aglow with 17,000... Learn more