Greeley Smokeoff
Presented By:
City of Greeley
Dates:
September 11, 2020 - September 12, 2020
Recurrence:
Recurring daily
Location:
Greeley City Park
Address:
100 W. Brown St., Greeley, KS 66033
Phone:
(785) 448-4304
Time:
10:00 AM
Price:
Freewill donation
Visit Website
While this is a barbecue competition and bragging rights are a badge of honor here, this isn't your stuffy, hard core competition by any stretch of the imagination. Fun rules in Greeley, and nobody does it better than the Greeley Smokeoff. Whether a participant or festival attendee, the residents of Greeley adopts you for the day. Grab a plate, make a donation and dig in! There's ribs, brisket, chicken, veggies and even desserts cooked on the grill. You'll find some of the best barbecue in the region and the best people too. Visitors describe the experience like a huge tailgate party, only better. Competitors may enter a variety of categories with more than $3,000 in prizes given away. Musical entertainment on Friday night and during the day on Saturday. Kids games, vendor booths and the Larry Schaffer Memorial Coed Softball Tournament gives everyone something to do to exercise those calories off. Throw your donation in the tip jar located at a competitor's location to sample their food. All donations go to support local charities. If you're looking for a unique experience where the food is the focus for the celebration, the Greeley Smokeoff is your festival of choice! Visit www.greeleysmokeoff.com.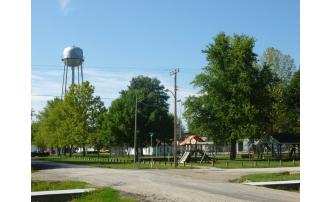 (785) 448-4197
•

Brown Ave & Main St, Greeley

•

Map it Visit Website

Under the water tower, in the heart of Greeley, this park's the perfect setting for the infamous, annual Greeley Smokeoff,... Learn more