Great Bend Farm, Ranch & Hemp Expo
Dates:
4/7/2021, 4/8/2021, 4/9/2021
Location:
Great Bend Expo Complex
Address:
3111 10th Street, Great Bend, 67530
Phone:
(620) 792-2750
Time:
9:00 AM to 5:00 PM
Price:
Free Admission
Visit Website
The 2021 Great Bend Farm and Ranch Expo promotes state-of-the-art agricultural technology! More than 500 booths inside and outside the complex. Sponsored by KSN, the Great Bend Co-op, and the American Hat Company Inc. Free parking and admission!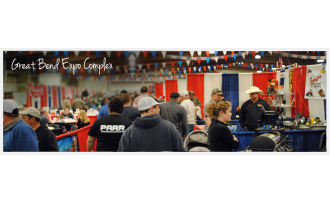 (620) 793-4111
•

1209 Williams St, Great Bend

•

Map it Visit Website

The complex, located just a few miles west of Great Bend, has 3 separate buildings. Expo I includes 15,000 square feet of... Learn more