Friday the 13th Serendipity Public Ghost Hunt
Presented By:
NOTO Arts District
Dates:
March 13, 2020
Location:
Serendipity
Address:
817 N. Kansas Ave, Topeka, KS 66418
Phone:
(785) 851-0856
Time:
8:00 PM to 11:30 PM
Price:
20.00
Visit Website
community calender event Serendipity Public Ghost Hunt, Friday March 13th Serendipity public ghost hunt! Friday March 13, 8pm Serendipity is located at 820 North Kansas Ave NOTO Arts District Topeka, KS 66608 785.851-0856 cost 20.00 per person ghosttoursofkansas.org ghosttoursofkansas@gmail.com 785-851-0856 Ghost Tours of Kansas and Serendipity have joined forces to offer another Public Ghost Hunt! The previous ghost hunts were so successful we are bringing you a fantastic evening of more ghost hunting of 4 proven haunted buildings !Friday March 13 2020, beginning at 8PM Roadtrip Paranormal out of Wichita, Ks., will be the host investigative team for the evening and will include an informative and intriguing presentation from 8-9PM. Following; from 9-11:00 will be the ghost hunt which includes 4 different buildings on North Kansas Avenue. 11-11:30 will be a Q and A session with team members and a chance for guests to share experiences and evidence. Cost for the event is 20.00 per person. Tickets must be purchased in advance at www.ghosttoursofkansas.org. Bring your ghost hunting equipment. Ghost hunting equipment will also be provided. Mag lights have been very successful communicating with spirits along with k-2's and camera's of course. Purchase tickets at www.ghosttoursofkansas.org 785-851-0856 ghosttoursofkansas@gmail.com Please print off you purchase confirmation as we do not mail out tickets.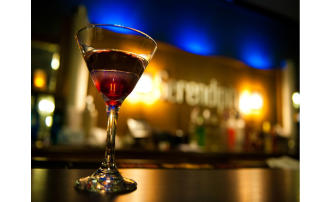 (785) 286-7676
•

820 N Kansas Avenue, Topeka

•

Map it Visit Website

Located in the heart of Topeka's flourishing NOTO Arts District, Serendipity is sure to add that extra bit of elegance to... Learn more