Fort Riley Ghost Tours
Presented By:
Fort Riley
Dates:
October 27, 2018
Location:
Fort Riley
Address:
205 Custer Ave, Bldg 205, Fort Riley, KS 66442
Phone:
(785) 239-2737
Time:
4:00 PM
Price:
No Admission Fee
Visit Website
Visit some historic buildings on Fort Riley...but, be careful of ghosts! Some say that certain buildings on Fort Riley are haunted, we'll let you decide. Listen to the ghost stories and myths of "Historic Fort Riley" and see where it happened. A guided walking tour will take you to some of the most famous "haunted" buildings on Fort Riley. Be sure to wear comfortable walking shoes and dress for the weather; sometimes it gets chilly when the sun goes down on haunted Main Post. Our guides and storytellers will share ghost stories that have been reported by residents of haunted homes and employees who work in haunted facilities. There will also be a generous sprinkling of historical tidbits about Fort Riley, and some of the many interesting things that have happened on and around the Post. Don't miss this interesting and spooky look at what seems familiar in the light of day.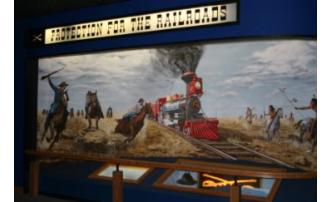 (785) 239-2022
•

205 Custer Ave, Fort Riley

•

Map it Visit Website

Housed in the original hospital built in 1855, the U.S. Cavalry Museum exhibits depict the colorful history of the... Learn more