Final Fridays
Presented By:
Historic Downtown Lawrence
Dates:
4/24/2020, 5/29/2020, 6/26/2020, 7/31/2020, 8/28/2020, 9/25/2020, 10/30/2020, 11/27/2020, 12/25/2020
Location:
Downtown Lawrence & Arts District
Address:
Massachusetts & Vermont Streets, Lawrence, KS 66044
Phone:
(785) 832-3000
Time:
5:00 PM to 9:00 PM
Price:
Free
Visit Website
On the last Friday of every month from 5pm until 9 pm, the streets of Downtown Lawrence and East Lawrence Cultural District come come alive with what has become one of Lawrence's most popular events. Storefronts convert into pop-up galleries and performance space, live performers station themselves on street corners, and exhibits spill out of galleries with exhibitions designed to engage art lovers of all ages. Make it an evening out with dinner drinks at one of our renowned Downtown Restaurants.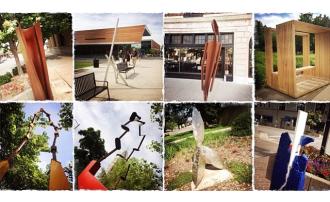 (785) 856-3040
•

Massachusetts & Vermont Streets, Lawrence

•

Map it Visit Website

View comtemporary outdoor sculptures by local, regional, and national sculptors. A small number of sculptures are selected... Learn more