Exiled- Trail o Terror
Presented By:
Zip KC
Dates:
September 6, 2020 - October 31, 2020
Recurrence:
Recurring daily
Location:
Zip KC
Address:
12829 Loring Dr., Bonner Springs, KS 66012
Phone:
(913) 276-0018
Time:
7:30 PM
Price:
$40 on Friday, $50 on Saturday
Visit Website
Exiled is a one mile haunted house hike of horror deep in the dark woods of Bonner Springs. The Trail of Terror is Kansas City's only haunted forest. Face your worst fears by clawing your way through the dark woods infested by our deranged freaks. WARNING: This is a rugged, dark trail not for the faint of heart. If you are scared of getting dirty, sweaty or hiking through the dark OUTSIDE, then Exiled is not for you! Exiled 2020 Dates: Open every Friday & Saturday in October Oct 2nd & 3rd- First ticket time @ 7:30 Oct 9th & 10th - First ticket time @ 7:30 Oct 16th & 17th - First ticket time @ 7:00 Oct 23rd & 24th - First ticket time @ 7:00 Oct 30th & Oct 31st- First ticket time @ 7:00 PRICING: $40 every Friday / $50 every Saturday To cut down on wait times and avoid large crowds, Exiled - Trail of Terrors will be doing a timed entry. To buy your ticket, you will pick out a date and time slot and you will only be allowed to be in the line during your time. Example: If you sign up for the 7:00-7:25pm slot, you will be allowed to get in the line any time in that range. You will not be allowed in line before 7pm or after 7:25pm. On-site box office opens at 6pm each night we are open but we highly recommend buying your ticket in advance to guarantee your time slot. Tickets will be available at the door, but are not guaranteed, as slots will fill up fast. *Face masks are required while standing in line and in the haunt. Do you dare go into the woods at night??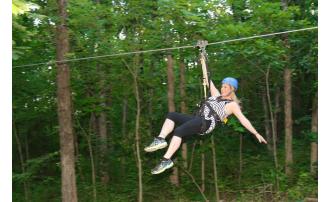 (913) 214-9478
•

12829 Loring Dr., Bonner Springs

•

Map it Visit Website

Zip KC hosts Kansas Cities wildest zip line adventures! Soar high above the bluffs of the Kansas River on 9 zip lines... Learn more