Duck Jam in the Park Concert Series: Randall King with Jake Worthington
Presented By:
Island Park
Dates:
May 30, 2019
Location:
Island Park
Address:
300 Main Street, Winfield, KS 67156
Phone:
(620) 221-2420
Time:
6:00 PM to 8:00 PM
Price:
FREE
Visit Website
Island Park Productions introduces the second FREE concert in their Duck Jam in the Park Concert Series, Texas country artist Randall King with guest Jake Worthington! Humble beginnings, a cultivated work ethic and the influences of classic country legends, synchronized together in perfect harmony, make up singer-songwriter from the West Texas Plains, Randall King . Growing up a fourth generation hay-hauler, many of King's songs are written and inspired by his deep southern heritage and family roots. We scheduled this farm boy to hit the Island Park Performance venue just before harvest kicks-off. King was raised listening to the rich and soulful, classic country voices of Keith Whitley, Garth Brooks, George Strait and Alan Jackson, to name a few, which helped create King's musical style into what many have described as neo-traditional country. "Randall King remains to the heart and soul of country music, but no doubt brings his own unique brand to the genre," says hit songwriter Mark Nesler. While most country bands consist of guitars, bass, drums and a fiddle, King's live set features the cryin' of the steel guitar; one of country music's original instruments. King has recently performed with artists such as Lee Brice, William Michael Morgan, Tracy Byrd, Cody Johnson, Robert Earl Keen and more. Unlike the west Texas wind, King is a grounded and talented singer-songwriter who is sure to stay. "There's a lot of people that want country music to come back around, and there's a lot of people that will say you have to sell out and play radio hits to make it. I think for me I want to make my stamp as an artist with this record, that I can be me and still make an impact across the country. Not sellin' out, just bein' me. Just country." This concert will be the second concert of the Island Park Productions Duck Jam in the Park 2019 Concert Series. These events are free and open to the public thanks to the generosity of community sponsors. Attendees are welcome to bring a picnic dinner with them along with adult beverages, if so inclined. In case of inclement weather, the concert will be moved to the Burford Theatre in Arkansas City.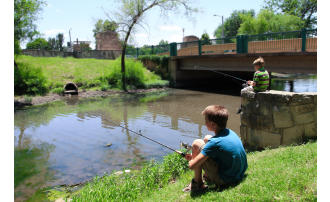 300 Main Street, Winfield
•
Map it
Island Park is a beautiful escape from the hustle and bustle of everyday life. The park includes sheltered picnic areas,... Learn more