Dinner Theatre - "The Gift: 7 Pounds 3 Ounces"
Dates:
December 1, 2016 - December 11, 2016
Recurrence:
Recurring weekly on Sunday, Thursday, Friday, Saturday
Location:
Chamber Players Community Theatre
Address:
140 W. 5th Ave. Chamber Players Community Theatre, Garnett, KS 66032
Phone:
785-304-1683
Time:
Starting: 6:30 PM
Price:
$24; $20 students
Visit Website
Enjoy a delicious dinner and dessert served by the cast at the Thelma Moore Community Playhouse, home to the Chamber Players Community Theatre in Garnett. Then, sit back and watch this delightful comedy, "The Gift: 7 Pounds 3 Ounces", written by Garnett native and renown playwright Gary Stapp. An emotional, heart-opening journey about love, friendship, family, sacrifice, and what it truly means to give begins with an enormous Christmas tree wrestled into the warmth of a Colorado cabin. The Britton family, Brad and Tina and their son Nick, are eagerly anticipating the joy of a fun-filled holiday vacation spent with their close friends, Kyle and Jan, who arrive bearing gifts of sentiment, sarcasm, and sass. The two couples merrily begin to share their laughter, their affection, and their memories of the good ol' days, but too soon Jan begins to question Nick's paternity. When the others are confronted with secrets, both past and present, the bonds of their relationships are made vulnerable. And just as it appears to all of them that their proverbial "happily ever after" is about to slip away, the real spirit of Christmas ultimately reminds them of their love and compassion for one another through a gift. A gift born sixteen years ago. Visit The Chamber Players website for addition play information. Every seat a good seat and includes a delicious dinner served at 6:30 pm or 12:30 pm for one Saturday and two Sunday matinees. Call for ticket information and accommodations for large groups. These performances sell out fast so get your tickets as soon as they go on sale. Large groups and bus tours welcome!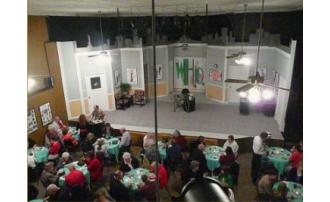 (785) 304-1683
•

140 W. 5th Ave, Garnett

•

Map it Visit Website

2010 marked the 20th season of the Chamber Players' dinner theatre. Started in 1991 in storefront spaces, church basements... Learn more