Dinner Theatre - "Rose and Walsh"
Dates:
March 2, 2017 - March 12, 2017
Recurrence:
Recurring weekly on Sunday, Wednesday, Thursday, Friday
Location:
Chamber Players Community Theatre
Address:
140 W. 5th Ave. Chamber Players Community Theatre, Garnett, KS 66032
Phone:
785-304-1683
Time:
6:30 PM to 9:30 PM
Price:
$24 adults, $20 students
Visit Website
About "Rose and Walsh": Written by Neil Simmon, Rose and Walsh follows two great literary figures and the depth and consequence of their enduring love. At a beautiful beach house on the tip of Long Island, Rose, a celebrated but near penniless author, receives nightly visits from Walsh, the love of her life and a famous writer himself. Now Walsh must go away forever, but not before securing Rose's financial future with an extraordinary proposal that promises to change everything. The unique dinner theater setting provides every seat a good seat and includes a delicious dinner served at 6:30 pm or 12:30 pm during one Saturday and two Sunday matinees. Call for ticket information and accommodations for large groups. Over 750 tickets have already been sold, so reserve your tickets now. Large groups and bus tours welcome!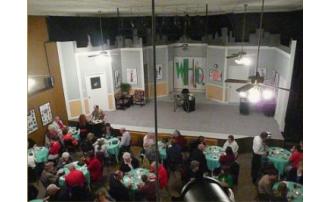 (785) 304-1683
•

140 W. 5th Ave, Garnett

•

Map it Visit Website

2010 marked the 20th season of the Chamber Players' dinner theatre. Started in 1991 in storefront spaces, church basements... Learn more