Dillon Lecture Series
Presented By:
Hutchinson Sports Arena
Dates:
March 10, 2020
Location:
Hutchinson Sports Arena
Address:
700 East 11th, Hutchinson, KS 67501
Phone:
(620) 665-3505
Time:
10:30 AM to 11:30 AM
Price:
General admission tickets are $10. Students & school groups admitted free of charge. Tickets are available online or at the HCC Campus Store
Visit Website
Dillon Lecture Series is pleased to welcome Journalist Byron Pitts to the 2020 Lecture Series. As a child, Byron Pitts was functionally illiterate and spoke with a stutter. Today, he is an Emmy Award winning journalist, author and co-anchor of ABC News "Nightline". With over 20 years of experience as a news veteran, he's known for his thoughtful storytelling, on-the-ground reporting and in-depth interviews. His 2009 Memoir, "Step Out on Nothing: How Faith and Family Help Me Conquer Life's Challenges" chronicled his journey overcoming illiteracy and a stutter to become a journalist. For more information, call 620.665.3505 or visit the Dillon Lecture Series website here.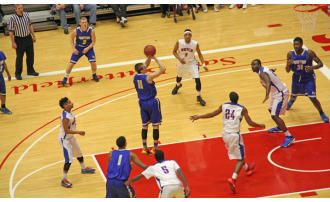 (620) 665-3530
•

700 East 11th, Hutchinson

•

Map it

The Hutchinson Sports Arena has been the home of the Men's NJCAA National Basketball Tournament since 1949. Every March, 24... Learn more