Dervish
Presented By:
The Wareham
Dates:
March 11, 2017
Location:
The Wareham
Address:
410 Poyntz Ave, Manhattan, KS 66502
Phone:
(785) 532-6425
Time:
7:00 PM
Price:
The McCain box office is open weekdays 11:30 a.m. to 4:30 p.m. and 90 minutes before each performance. 785.532.6428
Visit Website
The hauntingly charismatic vocals of Cathy Jordan and the dazzling virtuosity of award-winning instrumentalists Tom Morrow on fiddle, Liam Kelly on flute, and Shane Mitchell on accordion, have propelled Dervish into one of the most in-demand Celtic ensembles in the world. With its foundation in legendary pub sessions, its current high-energy style is the result of years of international touring. The solid rhythm playing of Brian McDonagh and Michael Holmes drives the band, whose concert performances are a myriad of tones and moods ranging from high energy tunes, played with fluidity and intuitiveness, to beautifully measured songs; from charming lyrics of life and love, to inspiring melodies that lift audiences from their seats.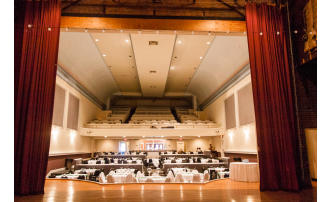 (913) 269-1404
•
Map it
Visit Website
The Wareham is an historic Manhattan event venue that is perfect for weddings, corporate events, concerts and more. Learn more