Community Chamber Orchestra presents Braulio Bosi, Classical Guitarist
Presented By:
Life's Finer Moments
Dates:
June 2, 2019
Location:
Main Lodge of Life's Finer Moments
Address:
1285 16th Rd., Clay Center, KS 67432
Phone:
(785) 926-4725
Time:
4:00 PM to 5:30 PM
Price:
$8/individual or $18/family (non-family groups of 5 or more receive $1 discount)
Visit Website
Join Community Chamber Orchestra in a lovely lodge setting on Sunday afternoon, June 2, at 4:00 pm, to enjoy the artistry of classical guitarist Braulio Bosi, guitar faculty member of University of Missouri/Kansas City Conservatory of Music and Dance.. On the first half of the program he will play concertos by Vivaldi and Carulli, and a duet with viola. After intermission he will play solo guitar music from his home Brazil. Tickets may be ordered in advance, or paid at the door. In addition to the music, there will be display tables available to merchants/organizations for $75 apiece, which include U.S. Cellular and Etsy's Tater and Nooney jewelry. A bargain table of $1 vintage sheet music will benefit the Orchestra. Morganville native Elizabeth Anne Mall's last 4 EAM CD's will also be for sale. She is an artist with Street Lamp Records in Los Angeles. This event is co-sponsored by the Clay County Arts Council and Clay County Travel & Tourism. Lodging reservations may be made in Clay Center or at Life's Finer Moments..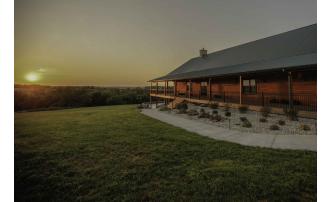 (785) 447-1678
•

1285 16th Rd., Clay Center

•

Map it Visit Website

Get away from the crazy hustle and bustle and relax in a cabin.  Each cabin comes equipped with a gas fireplace and... Learn more