Christmas Concert with Community Chamber Orchestra
Presented By:
Community Chamber Orchestra, LLC
Dates:
December 7, 2018 - December 7, 2018
Recurrence:
Recurring daily
Address:
1285 16th Rd., Clay Center, KS 67432
Phone:
(785) 926-4725
Time:
7:00 PM to 8:00 PM
Price:
$8/individual or $18/family
Visit Website
Help us ring in the 2018 Christmas season with a family-friendly concert in the main lodge of the beautiful Life's Finer Moments retreat, just south of Clay Center. Youth and adult musicians of Community Chamber Orchestra have prepared selections from "The Nutcracker," Christmas carols, and pops holiday favorites such as Andersons' "Sleigh Ride" and "Chestnuts Roasting on an Open Fire." Advance tickets can be ordered at www.kansasmusic.net in advance, or purchased at the lodge entrance from 6:15 pm until 6:55 pm the night of the performance. The Community Chamber Orchestra is in its 21st year of giving live chamber orchestra concerts without a conductor in North Central Kansas. New musicians are welcome to join after this concert, to prepare a program for June 2, 2019 with guest classical guitarist Braulio Bosi, from University of Missouri Conservatory of Music and Dance.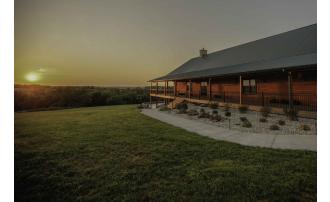 (785) 447-1678
•

1285 16th Rd., Clay Center

•

Map it Visit Website

Get away from the crazy hustle and bustle and relax in a cabin.  Each cabin comes equipped with a gas fireplace and... Learn more