Chipping the Block, Painting the Silk: The Prints of Norma Bassett Hall
Dates:
August 7, 2018 - December 15, 2018
Recurrence:
Recurring weekly on Tuesday, Wednesday, Thursday, Friday, Saturday
Location:
Marianna Kistler Beach Museum of Art
Address:
14th and Lane, Manhattan, KS 66506
Phone:
(785) 532-7718
Time:
Please see museum hours
Price:
Free
Visit Website
Between 1922 and 1957, the American artist Norma Bassett Hall created nearly one hundred print designs. An Oregon native, she found inspiration in the diverse landscapes she and her husband, artist Arthur William Hall, encountered during travels in Europe and in the places they lived—Oregon, Kansas, Virginia, and New Mexico. During the 1920s Bassett Hall began producing color woodcut prints, employing Japanese printing methods that had been embraced by artists associated with the Arts and Crafts movement. While living in Santa Fe during the 1940s, she joined other American artists in adapting commercial screen printing methods for fine art printmaking. Bassett Hall gained national prominence through her art. She was a member of numerous artist organizations, including the Wichita Art Association and Wichita-based Prairie Print Makers. This exhibition presents a selection of work from the first major retrospective of Bassett Hall's printmaking since her death. This traveling exhibition has been organized by independent curator Joby Patterson of Eugene, Oregon. Unless otherwise indicated, all works are by Norma Bassett Hall (born 1888, Halsey, Oregon; died 1957, Santa Fe, New Mexico). This exhibition is sponsored by Annette and Steven Huff, Russell Clay Harvey and Patty McGivern, and Mary Helm Pollack and Lawrence W. Pollack. Museum hours Tues Wed Fri 10 - 5 Thurs 10 - 8 Sat 11 - 4 Closed Sun, Mon & holidays Free admission Free parking Related events: Presentation by Guest Curator Joby Patterson November 1, 2018, 5:30-7:30 p.m.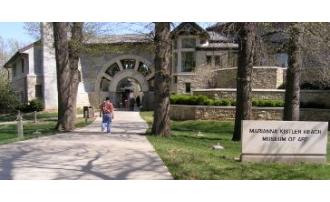 (785) 532-7718
•

14th St & Anderson Ave, Manhattan

•

Map it Visit Website

The Marianna Kistler Beach Museum of Art houses the Kansas State University permanent art collection, which originated in... Learn more