Avenue of Flags, Memorial Day Celebration
Dates:
May 22, 2020 - May 25, 2020
Recurrence:
Recurring daily
Location:
Garnett Cemetery
Address:
27554 NE Neosho Rd, Garnett, KS 66032
Phone:
(785) 448-5496
Time:
8:00 AM to 7:00 PM
Price:
Free
Visit Website
View over 300 American flags flying with pride at the Garnett Municipal Cemetery. Each flag represents someone laid to rest within this cemetery who served our country. Flags represent soldiers from the early Civil War to present day. These flags are tagged with the name and branch of service of the person to whom it represents. Volunteers are located in the chapel throughout Memorial Day Weekend to assist persons in finding graves. A special Memorial Day Celebration takes place at the Garnett Municipal Cemetery at 10 a.m. on Monday, Memorial Day. Hosted by the Garnett American Legion and Veterans of Foreign Wars, visitors are welcome to participate in a special ceremony with the laying of a wreath at a monument dedicated to all branches of the military, special guest speaker and traditional gun salute and Taps. The public is encouraged to attend the ceremony of honor, and to walk or drive the cemetery to view the flags. The Avenue of Flags is held annually from Friday through Monday of Memorial Day Weekend.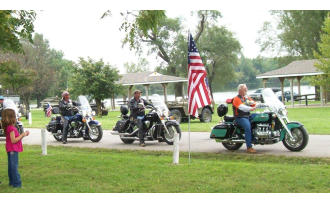 (785) 448-5496
•

131 W. 5th Ave, Garnett

•

Map it Visit Website

This display of over 300 American flags fly with pride at the Garnett Municipal Cemetery over Memorial Day Weekend, with a... Learn more