Artrageous - The Interactive Art & Music Experience
Presented By:
C.L. Hoover Opera House
Dates:
March 7, 2020
Location:
C.L. Hoover Opera House
Address:
135 W. 7th St., Junction City, KS 66441
Phone:
(785) 238-3906
Time:
7:00 PM
Price:
Adults $25; Military/Seniors (65+) $23; 18 & Under $12
Visit Website
Artrageous is a troupe of 12 artists, singers, dancers and musicians hailing from the high desert of New Mexico. Their high energy performance of fine art, live music, singing, dancing, humor and interaction in a frenzy of movement and color with a message of the arts being an integral and valuable part of human existence. Being a theater arts community since the 80's, Artrageous brings their passion for the arts to each theater leaving their audiences of all ages smiling and singing and dancing along. Part Art Studio, Part Rock Concert, Part Creation Lab! Experience the thrill of giant masterpieces created before your eyes in mere moments!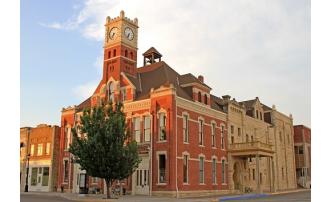 (785) 238-3906
•

135 W. 7th St., Junction City

•

Map it Visit Website

In the fall of 1882 the Opera House opened with a grand celebration. Then after 16 years as the cultural "heart" of... Learn more