Apollo 13 50th Anniversary: Mission Debrief
Presented By:
Cosmosphere
Dates:
April 4, 2020
Location:
Cosmosphere
Address:
1100 N Plum, Hutchinson, KS 67501
Phone:
(620) 665-9334
Time:
1:30 PM to 2:30 PM
Price:
Gen. Admission- $45, Cosmosphere Member- $32
Visit Website
Join us at Hutchinson's Historic Fox Theatre for an Apollo 13 Panel Discussion with Apollo 13 astronauts Jim Lovell and Fred Haise and MOCR team members, including Gene Krantz, as well as Michael Griffin, former NASA Administrator and current Undersecretary of Defense for Research and Engineering. With panel moderators: Author Andrew Chaikin and Cosmosphere CEO Jim Remar. Limited tickets available. See event website for full details and ticket information.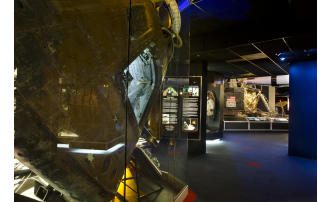 (620) 662-2305
•

1100 N Plum St, Hutchinson

•

Map it Visit Website

Cosmosphere International Science Education Center & Space Museum features the largest combined... Learn more