Apollo 13 50th Anniversary: Gala - CANCELLED
Presented By:
Cosmosphere
Dates:
November 14, 2020
Location:
Cosmosphere
Address:
1100 N Plum St, Hutchinson, KS 67501
Phone:
(800) 397-0330
Time:
5:30 PM to 9:00 PM
Visit Website
THIS EVENT HAS BEEN CANCELLED THE ODYSSEY GALA TICKET PACKAGE IS SOLD OUT. PLEASE CONTACT HUTCHINSON'S HISTORIC FOX THEATRE AT 620-663-1981 TO BE PLACED ON A WAITING LIST. "HOUSTON, WE'VE HAD A PROBLEM" These words set in motion a historic series of events. For three days, three astronauts huddled in the Aquarius Lunar Module as the Mission Control team on Earth worked to solve the problem of how to bring them home. Meanwhile, the world united in prayer and hope for the survival of three Americans 200,000 miles from Earth. No other space mission before or since called on the collaboration of so many in Mission Control and beyond to solve such a critical challenge. Apollo 13: A Mission of Survival. A Mission of Teamwork. A Mission of Hope. Join us to celebrate the great Victory of Apollo 13, where the Apollo 13 Command Module, Odyssey , was restored, preserved and is proudly on display in Cosmosphere's Apollo Gallery. Slated to appear: Jim Lovell, Fred Haise, Gene Kranz, Gerry Griffin, Milt Windler, John Aaron, Jerry Bostick, Vance Brand, Chuck Deiterich, Ed Fendell, Spencer Gardner, Jack Lousma, Ed Smylie, Frank VanRensselaer and…Andrew Chaikin, Author; Michael Griffin, Undersecretary of Defense for Research and Engineering and former NASA Administrator. Glynn Lunney will be a pre-recorded video.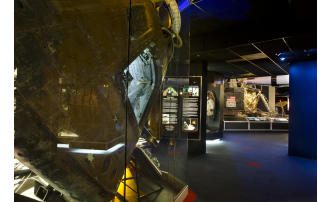 (620) 662-2305
•

1100 N Plum St, Hutchinson

•

Map it Visit Website

Cosmosphere International Science Education Center & Space Museum features the largest combined... Learn more