Abbyville Frontier Days Rodeo & BBQ
Presented By:
Abbyville Rodeo
Dates:
May 21, 2021 - May 22, 2021
Recurrence:
Recurring daily
Location:
Abbyville Rodeo
Address:
100 East Ave F, Abbyville, KS 67510
Phone:
(620) 727-4569
Time:
5:00 PM
Visit Website
The Abbyville Rodeo is much more than just rodeo. On Friday night, kids get into the rodeo FREE. Saturday starts with the Rodeo Parade at 10:30, followed by Ham & Bean/Chicken Noodle Dinner at 11:30. The afternoon is filled with family activities. BBQ Meal - under the Pavilion 5:00-7:30 PM with rodeo following at 8:00 PM.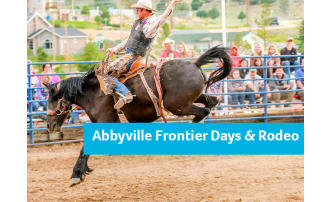 (620) 727-4963
•

100 East Ave F, Abbyville

•

Map it Visit Website

The Abbyville Rodeo grounds is home to the Abbyville Frontier Days Rodeo! Located in the Heart of Downtown Abbyville, KS,... Learn more