A Christmas Carol
Presented By:
C.L. Hoover Opera House
Dates:
December 1, 2016 - December 4, 2016
Recurrence:
Recurring daily
Location:
C.L. Hoover Opera House
Address:
135 W. 7th St., Junction City, KS 66441
Phone:
785-238-3906
Time:
Thurs, Fri, Sat 7:30 PM; Sun 2:00 PM
Price:
$18 Adults; $15 Military/Seniors; $5 Children (18 & Under)
Visit Website
This joint production by the C.L. Hoover Opera House and the Junction City Little Theater tells the story of a bitter old miser named Ebenezer Scrooge and his transformation into a gentler, kinder man after visitations by the ghost of his former business partner Jacob Marley and the Ghosts of Christmas Past, Present and Future.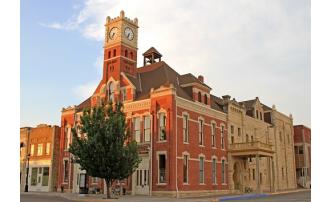 (785) 238-3906
•

135 W. 7th St., Junction City

•

Map it Visit Website

In the fall of 1882 the Opera House opened with a grand celebration. Then after 16 years as the cultural "heart" of... Learn more