70th Annual Christmas Tree Lighting Ceremony
Dates:
November 28, 2020
Location:
Christmas City of the High Plains
Address:
200 Main St, PO Box 275, WaKeeney, 67672
Phone:
(785) 743-8325
Time:
10:00 AM - 9:00 PM
Price:
Free
Visit Website
A cherished tradition continues in WaKeeney, "the Christmas City of the High Plains." WaKeeney lights up the prairie skies with thousands of lights, fresh greenery, garlands, and handcrafted decorations. The annual Christmas Tree Lighting began in 1950 and is always held on the Saturday after Thanksgiving. The annual event features a holiday bazaar, a soup supper, a virtual reality in-motion ride, wagon rides, live reindeer, children's games and crafts, music, and visits with Santa Claus and treats. Come and make wonderful memories with us!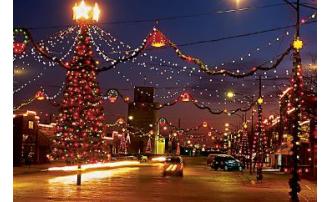 (785) 743-8325
•

PO Box 275, WaKeeney

•

Map it Visit Website

Since 1950, WaKeeney has held the title of "Christmas City of the High Plains." Each November WaKeeney is magically... Learn more