69th Annual Christmas City of the High Plains
Dates:
November 30, 2019 - January 1, 2020
Recurrence:
Recurring daily
Location:
Christmas City of the High Plains
Address:
200 N. Main St., WaKeeney, KS 67672
Phone:
(785) 743-8325
Time:
5:00 PM to 10:00 PM
Price:
Free
Visit Website
WaKeeney is the home of the oldest Christmas display between Kansas City and Denver. Since 1950, WaKeeney has been known as the Christmas City of the High Plains. The prairie skies are lit with more than 6,000 lights, and the handmade 35-ft. tree made of fresh pine greenery stands in the middle of the main intersection in downtown WaKeeney. Four ivory stars and a canopy of heavenly blue lights top the tree. A one-square block area around the tree is draped with more greenery, handmade decorations, and more lights. The Annual Christmas Tree Lighting is held on the Saturday evening following Thanksgiving, and the display remains through New Year's.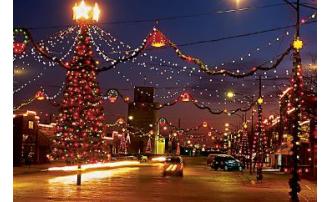 (785) 743-8325
•

PO Box 275, WaKeeney

•

Map it Visit Website

Since 1950, WaKeeney has held the title of "Christmas City of the High Plains." Each November WaKeeney is magically... Learn more