2019 Sundown Salute
Presented By:
Heritage Park
Dates:
July 3, 2019 - July 7, 2019
Recurrence:
Recurring daily
Location:
Heritage Park
Address:
6th & Washington St, Junction City, KS 66441
Phone:
(785) 238-2885
Time:
10:00 AM to 10:00 PM
Price:
No Admission Fee
Visit Website
The largest free multi-day Independence Day celebration in Kansas! There will be vendors, crafters, animals, carnival, car show, food vendors, bands playing nightly and a fireworks extravaganza! The main activities take place in Heritage Park in historic downtown Junction City, though many other activities take place in the surrounding area. All band concerts are free, there is no admission fee! Don't miss the parade on July 4th at 10:00 a.m. Visit Sundown Salute on Facebook for a complete schedule of daily activities & times.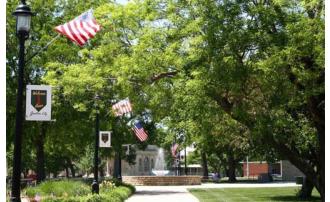 (785) 238-3103
•

6th & Washington St, Junction City

•

Map it Visit Website

Heritage Park features the Civil War Arch, Vietnam Veterans Memorial, 1st Infantry Division Memorial, Law Enforcement... Learn more