Great Overland Station
Why We Love This
Ever-changing exhibits are designed to bring stories to life with hands-on activities, docents and photographs.

The elegant designs of renowned architect Gilbert Stanley Underwood provide a beautiful setting with soaring ceilings and intricate ornamentation for trains rumbling by and permanent exhibits throughout the museum.

The Corridor of Flags outlines a broad outdoor room, the BNSF Memorial Plaza, between the Great Overland Station and the All Veterans Memorial. Fifty American flags will proudly wave above the flags of our fifty states, signifying America's unity of spirit: E Pluribus Unum - "Out of many, one."
Your general admission ticket grants you access to the Great Overland Station Museum, Railroad Park, All Veterans Memorial Sculpture, The Kansas Hall of Fame, Choo-choo Junction full of kid's activities and an Exhibit Gallery with traveling historical Exhibits (currently showing THE KAW: A Prairie River history exhibit)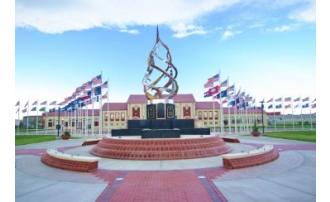 (785) 232-5533
•

701 N Kansas Ave, Topeka

•

Map it Visit Website

Formerly home to the Union Pacific Station, the Great Overland Station is a museum/education center with a focus on people of... Learn more