One of the most amazing things about being a mother is the chance to watch my daughter discover and learn about the world around her. The best part about it for me is that she inspires me to see the same every day, mundane things in a new light. Every day becomes an adventure, a new chance to explore and learn and grow. 
"[[endteaser]]"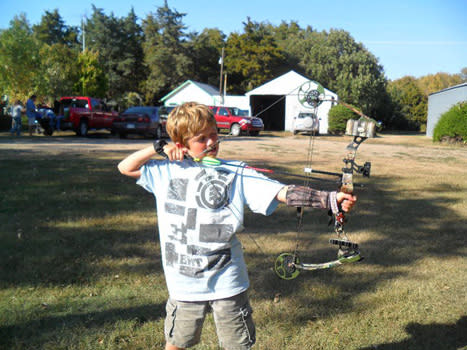 With all of the technology today we so often get caught up in the latest reality TV show or the newest video game. We forget that the boring every day things can sometimes offer us the most beautiful and amazing opportunities to expand our horizons. Yes, kids spend most of their days in school, but what do they learn? Only that learning and growth happens in a school, from a book, or from what they read online. When, in fact, the greatest classroom is surrounding us; the greatest teacher is mother nature, herself. The best way to get kids outdoors and learning about the great outdoors is to take them. To make it even better, take them hunting.
Passing on the tradition of hunting is one of the best and most sincere ways to introduce a kid to a world greater than themselves. Not only does it introduce a child to the world of biological sciences and natural resources, but it teaches them patience and values and a respect for life that video games and TV never will and never could. There's also nothing quite like the gleam in the eyes of a child when they bring home their first pheasant or deer. It's an awe-inspiring moment that can cultivate a lifetime of love, respect and passion for the great outdoors.
Take a child hunting. You may help them discover a new hobby, or even a new passion, and it may even renew your passion for life.
Photos courtesy of Tami McCloud and Jim Burnes. 

Elizabeth Peterson is a lifetime resident of Kansas, an avid outdoorswoman, and a new mom. She spends her free time in the great outdoors, hunting and fishing, and writing about her life and passions on her personal blog DeerPassion. You can also find her on Twitter, @DeerPassion.