Catching a glimpse of any wildlife is always an exciting experience, but to see rare species in a natural habitat is a rare and treasured opportunity. In this delicate shift from fall to winter, the Quivira National Wildlife Refuge welcomes winged visitors who are in the midst of their migration. One such bird is the whooping crane.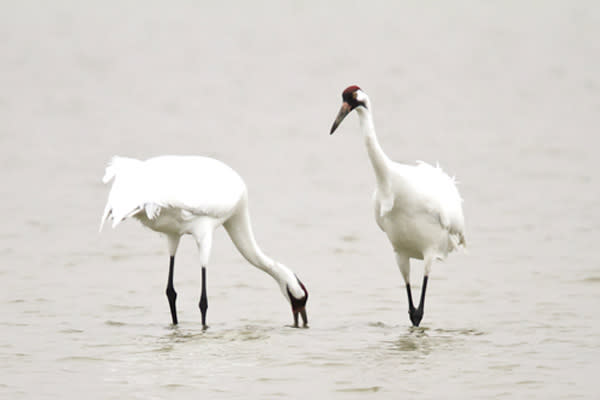 This beautiful creature is not only fascinating to watch, but intriguing to learn about. Make plans to see the cranes from late October through November during their fall migration, but stay awhile to see the beautiful habitat of the Quivira Refuge.I spoke to Barry Jones, visitor services specialist at Quivira, to learn more about the whooping cranes in Kansas as well as the refuge itself. Keep his notes (and mine) in mind as you make a visit this season.
Many Kansans aren't aware of the abundant wildlife at Quivira National Wildlife Refuge; tell us a little more about this treasure.
Quivira protects more than 22,000 acres of sand prairie and wetlands, including an inland salt marsh. Situated in the central flyway, it receives hundreds of thousands of ducks, geese and shorebirds each migration period. In addition, its central location in North America places it at the crossroads of east, west, north and south, producing a unique mix of flora and fauna.
The whooping crane is a popular visitor this time of year. Why is this particular habitat suited for them?
Whooping cranes prefer shallow waters, along with Quivira's numerous wetlands and mudflats, for roosting and occasional feeding during migration.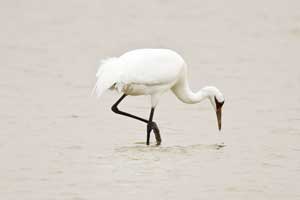 When do you begin to see whooping cranes? How can visitors catch a glimpse? Whooping cranes pass through the area, usually in groups of two to five birds, during spring and fall. Fall migration occurs roughly from late October through November, and spring migration occurs from mid-March through early April. The best chances to see the birds would be during the first or last two hours of each day, at either Big or Little Salt Marsh. Be advised, whooping cranes are not present every day during the mentioned periods, and the birds' movements are unpredictable.
What is the current species outlook of whooping cranes? Is any of it specific to Kansas?
The original wild population of whooping cranes, called the wood buffalo/aransas flock, has been growing slowly but steadily since the overall low of 16 birds in the early 1940s. This flock now numbers around 300. Fluctuations occur from year to year, mostly due to food and water availability throughout their range.
Can you give us a little history on the refuge? How did it begin and what are some new initiatives?
Quivira was established in 1955 in an area already popular with waterfowl hunters. Primarily a place for the protection of migratory birds, refuge management has since expanded to also focus on ecosystem management, including increasing shorebird habitat and prairie restoration.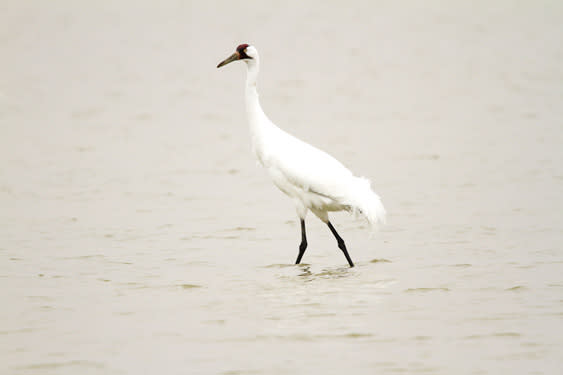 The geography of the refuge is truly unique, how can visitors best experience this?
At least 40 miles of public roads are available either within or alongside the refuge. Also, unless posted seasonally or otherwise as closed to public entry, most areas of the refuge are open to foot travel.
What other special events does Quivira offer this time of year?
Annual special events typically occur during the summer half of the year, and include a kids' fishing day in early June, Monarch Mania in early September, and National Wildlife Refuge Week in mid-October.
What will our readers be surprised to learn about Quivira National Wildlife Refuge?
Mammals that have been recorded here in the last few years include species as diverse as beaver, porcupine, black-tailed prairie dog and armadillo.
What vital information should they know when visiting? 
Potential visitors should bear in mind that during wet periods some roads may be difficult to travel. Visitors can find out current conditions either by calling the refuge or checking the website.
We always like to give our readers some travel tips. After a long day of birding, where do you recommend folks hunker down or grab a bite?
The nearest area towns include Stafford, St. John, Great Bend and Hutchinson (This blogger recommends the Anchor Inn on Hutchinson's main drag).
TravelKS Points of Interest:There is no charge to visit Quivira National Wildlife Refuge and it is only open during daylight hours. There is also no camping.Download and print one of four maps from the Quivira website before your visit. These include a wildlife drive that takes visitors along the Refuge Tour Road. For hikers, the Migrants Mile Trail, totaling 1.22 miles, is found at the center of the refuge. The Headquarters Area trails offers opportunities to view the Little Salt Marsh.Information about refuge animals, plants, management practices, unusual bird observations and many other things can be found on the refuge website.
Photos above were provided by Dr. Dan Witt.

Katy Ibsen is a writer and editor living in Lawrence. When she's not blogging, writing or serving her community, she's embarking on the outdoor life among Kansas' picturesque landscape.